Meet The Family Behind The Wood Shed BBQ
My dream has always been to own a restaurant.
And serving, or delighting myself in, the Lord has just become a way of life as I have grown closer to God. And now, to see that His Word is as true as anything you ever saw with your own eyes has been an amazing experience.
My wife, Kassie, and I delight ourselves in the Lord every day, by serving and honoring God in all that we do. And now God has kept His promise and given us the desires of our hearts, and we intend to pass the blessing along to you, our customers.
Please enjoy your meal and if there's ever anything that you think we can do better, let us know.
---

In God's infinite wisdom, He led us to the church that we now call home, where we met a group of fellow believers that we now call "family". If you're looking for a church that you too can call home, please ask us about Family Church. We'd love to meet you there and show you around.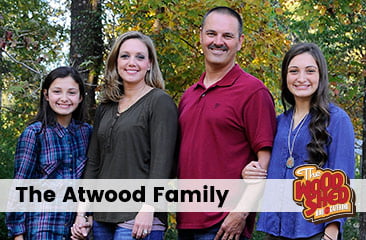 "Delight yourself in the Lord and He will give you the desires of your heart" – Psalms 34:4 NIV
Bryan Atwood & Family